Templify Template Version 1.1 for WYSIWYG Web Builder 9 Change Log ------------- Version 1.1 Removed Author Credit from Site HTML Version1.0 Original Release
All of the best features

The WYSIWYG Web Builder 9 Template Templify has many fancy and professional designed details built right in. Social media icons, custom Google Web Fonts, and expert use of te master frame / master objects are just a few examples.


Unlimited Colors

Using the new WYSIWYG Web Builder 9 "replace Property Values" tool, this theme is available with unlimited color variations. Match your logo color, brand, or the color of your favorite flower! Any color you wish, make it yours.
Social Media Icons
Built in social media icons in the header of each page can be controlled by the master frame. Change the effect to any built in WYSIWYG Web Builder effect.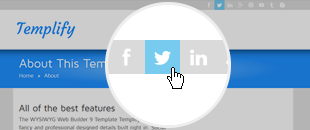 Levelingstraße 19
81673 München, Deutschland
Mo-Do 9-18 Uhr Freitag 9-14 Uhr
Tel: + 49 (0) 89 437 485 86

KFZ Werkstatt für PKW - LKW - Motorrad
TÜV/AU - Service - Elektrik - Unfallinstandsetzung - Lackierung
SCHLAGWÖRTER
QUICK LINKS
KONTAKT
Levelingstraße 19
81673 München, Deutschland
Tel: + 49 (0) 89 437 485 86
Lada
Werkstatt
TÜV/AU
Service
Elektrik
Unfallinstandsetzung
Lackierung

Copyright © 2018 by
Ihr Autopartner UG
· All Rights reserved · E-Mail: info@ihrautopartnerug.de
Leasing
Busse
Transporter
Anhänger
alle Automarken